Home
→
Artisan Apron
→
Artisan Apron Sewing Pattern w/ hardware (shipped to your home) - Women's Full and Half - Apron Pattern - Vendor Apron
Artisan Apron Sewing Pattern w/ hardware (shipped to your home) - Women's Full and Half - Apron Pattern - Vendor Apron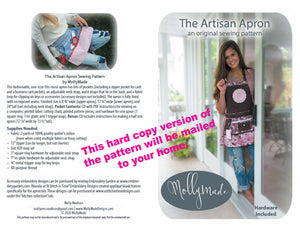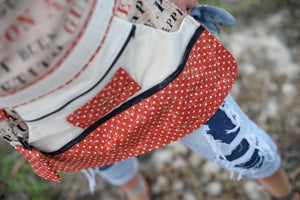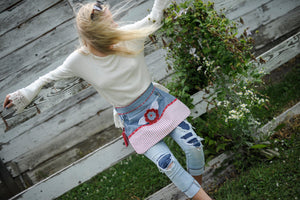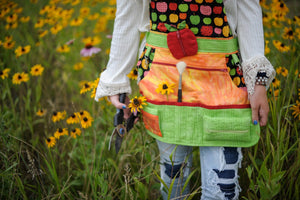 Sorry, this item is out of stock
THIS ITEM WILL BE SHIPPED TO YOU.
This artisan apron was designed to be useful and it is with great pleasure I offer you my exclusive design in the form of a sewing pattern with printed pattern pieces, instructions on a CD, and one set of hardware.
Ideal for vendors, crafters, teachers, or chefs, this artisan apron features plenty of pockets, an adjustable neck strap, and waist straps that tie in the back for a one-size-fits-most design. This is the ultimate business apron for craft shows because in addition to its many pockets, you can also personalize the blank space at the top with your business branding. The purchase of this listing is for one sewing pattern in the form of a physical packet. This is not a finished apron. Materials, tools, and a finished product are not included with the purchase of this pattern and I recommend a basic knowledge of sewing to complete this project.
When you follow the sewing instructions, you will create an apron with the following specifications:
Width: 8.75 inches (upper apron) 17.25 inches (lower apron)
Length: 24 inches (not including neck strap)
Up to nine pockets
Zippered pocket designed for cash
Business card pocket
Adjustable neck strap
Key loop for adding clip-on accessories as needed
Bonus: Instructions for full size apron AND half size apron
File type: CD contains PDF instructions
Your sewing pattern will include a CD containing clear instructions with color photographs, a printed cutting chart, a printed pattern assembly diagram, and printed pattern pieces. You will also receive one set of hardware for making your first apron (1 square ring; 1 tri-glide; and 1 metal trigger snap).
The purchase of this listing does not include any fabric, tools, finished product, or directions for the accessories pictured with the sample aprons. However, many of the accessories are machine embroidery designs available at Embroidery Garden. Rhonda at A Stitch In Time created applique blank 'frames' to fit the bib of this apron. (On her site, click on the "Kitchen Collection" tab.)
As of March 15, 2021, all orders shipped will carry loss/damage insurance. While you are guaranteed to be refunded should the USPS lose or damage your package, there will be a waiting period of 30 days from day of shipment before a claim will be processed.
*

 

IMPORTANT SHIPPING

 

INFORMATION*  Please be advised that there are unprecedented shipping delays via the United States Postal Service during this time, as COVID-19 has impacted USPS staffing and facility protocols. There is a significant increase in general mail usage due to social distancing. Experience has shown that while not all packages are scanned or entered into the shipment system, they are still arriving at their destinations, though delayed. We know it can be as frustrating for you as it is for us and we appreciate your patience. Please take these delays into consideration when placing an order or waiting on your shipment and manage delivery expectations accordingly.